2023-08-23
What is a Power Platform?
Continuing developments in the digital transformation landscape have encouraged organizations to find innovative ways to streamline processes, boost productivity, and make data-driven decisions. The Power Platform, developed by Microsoft, has emerged as a powerful suite of tools that enables organizations to build custom applications, automate workflows, analyze data, and create interactive dashboards, all without the need for extensive coding skills. In this article, we delve into what Power Platform is, its key components, and how it is transforming businesses across industries.
Power Platform: Enabling users to create custom applications without code
Power Platform is a collection of Microsoft technologies designed to democratize application development, data analytics, and process automation for business users and developers alike. It comprises four key components, each addressing specific needs:
Power Apps: Simplifying application creation
Power Apps allows users to create custom applications for specific business needs without writing traditional code. The platform provides an easy-to-use interface, allowing users to drag and drop components to create web and mobile apps. Whether it's a simple data entry form or a complex workflow application, Power Apps enables organizations to quickly develop and deploy apps, bridging the gap between business requirements and technical solutions.
Power Automate: Workflow Automation
Power Automate, formerly known as Microsoft Flow, enables businesses to automate repetitive tasks and workflows across applications and services. With a wide range of connectors to popular applications and services, users can create automated workflows that trigger actions based on specific events or conditions. By automating routine processes, organizations can save time, reduce errors and improve overall efficiency.
Power BI: Data visualization and analysis
Power BI is a robust business intelligence and data visualization tool that transforms raw data into visually appealing and actionable information. Users can connect to various data sources, create interactive dashboards, and design detailed reports to monitor business performance in real-time. Power BI capabilities enable data-driven decision-making, uncovering trends and patterns critical to a company's success.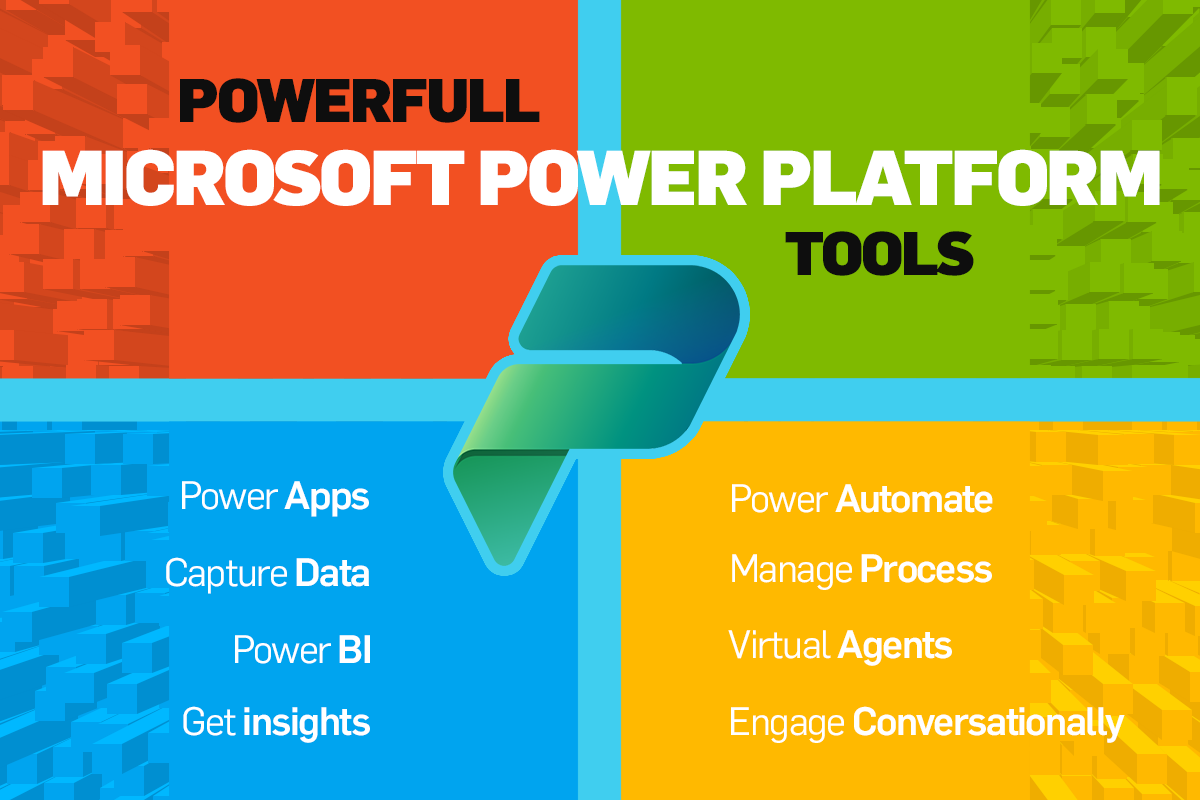 Power Virtual Agents: Creating AI-driven robots
Power Virtual Agents allows organizations to create AI-driven chatbots without extensive coding knowledge. Businesses can develop chatbots to answer customer queries, provide support or help with internal processes. The platform uses Microsoft's artificial intelligence capabilities to improve the chatbot's understanding of natural language, enabling more meaningful and personalized interactions with users.
Benefits of low-code development: Accelerating innovation and time to market
The Power platform offers several key benefits. First, it enables rapid application development and reduces the time to market for business solutions. This is due to the platform's low-code and no-code capabilities. Second, Power Platform integrates easily with other Microsoft services, third-party applications, and data sources, creating a connected and coherent ecosystem. In addition, Power Platform democratizes technology by enabling non-technical users to create applications and automate processes, thereby encouraging innovation at all levels in organizations. Automation and real-time information provided by the platform also lead to increased productivity and overall efficiency, as employees can focus on high value-added tasks. Finally, Power BI's interactive dashboards enable real-time data analysis, making it easier to make informed decisions based on the latest information.
The future of the Power platform: Trends and innovations to watch
The Power Platform has emerged as a game-changer in the world of digital transformation. By empowering businesses to create custom applications, automate workflows, and analyze data without extensive coding expertise, Microsoft has paved the way for organizations to innovate and stay competitive in a rapidly evolving marketplace. With Power Apps, Power Automate, Power BI, and Power Virtual Agents, enterprises can unlock the true potential of their data, streamline operations, and make data-driven decisions to thrive in today's data-driven business landscape.
htss consultants help organizations choose the most appropriate low code development platform based on specific requirements, budget, and existing technology. Our team can also provide expert guidance on the design and development of applications using the chosen platform, ensuring that the resulting product meets the required quality standards, is scalable and can be constantly optimized.
Learn more from one of htss consultants.