2022-11-24
Virgil Popescu, for Infofinanciar.ro: Can digitalization save the currently underfunded healthcare system? Case study: Telemedicine
The health system is poorly funded and, at the same time, increasingly understaffed. Universities teach – from the public budget – specialists who then choose to work in the West because of the salaries, health infrastructure and workload.
According to HotNews data, in 2020, every four hours a Romanian doctor left the country. It's hard to get out of such a spiral. The more doctors leave, the greater the workload becomes for the specialists who remain in the country, so new generations of doctors will find more and more reasons to work in other countries.
Digitalization, the solution to resuscitate a collapsing system
For the healthcare industry, digitalization may be the way out of this vicious circle. Not only does digitalization mean faster and better services for patients, but it also comes with de-bureaucratizing the system, automating procedures and improving the efficiency of doctors' work.
Our country ranks 3rd in the European Union in terms of the number of deaths from preventable causes, with 306 preventable deaths per 100,000 inhabitants. People rarely go to the doctor, and only when symptoms become unbearable. Prevention is an almost unknown word in Romania, where 7 out of 10 people do not go to the doctor for routine check-ups.
Given this context, telemedicine solutions can break the vicious circle in many ways. On the one hand, a telemedicine solution breaks down time and distance barriers. Romania benefits from extensive internet coverage, but lacks medical presence, especially in rural areas. Using a telemedicine solution, Romanians living in areas that are difficult to reach or with a reduced presence of medical professionals can have access to quality consultations, both for preventive purposes and, for some conditions, for immediate treatment.
However, the widespread use of telemedicine solutions comes with several knock-on benefits. Remote treatment of minor conditions is designed to reduce the pressure on healthcare infrastructure, where only serious cases could be addressed in person. Furthermore, by breaking down barriers of time and distance, telemedicine can encourage an increase in the proportion of preventive consultations, which will lead to the early recognition of conditions and therefore lower treatment costs, relieving pressure on health insurance budgets.
Implementation of digital telemedicine solutions can solve several problems in the areas of finance, human resources and health at the same time.
COVID-19 pandemic
Although htss has been providing solutions to the healthcare industry externally for many years, in Romania telemedicine services started to become more widespread during the COVID-19 pandemic. The good news is that Romanians are rapidly embracing this approach, with no less than 29% of Romanians using a telemedicine solution in 2020. The question that is worth asking is whether this trend will become a habit for most of the population, but what is certain is that, more than often, digitalization represents a one-way street.
The commitment to deliver quality patient care in an easily accessible environment and a passion for digitalization created telemedica. Our mission is to provide a better life for patients. We bring doctors and patients together so that people with even chronic or unattainable medical conditions are never left without medical care.
In this digital age, telemedicine is one of the most sought-after technology tools in the healthcare industry.
Integrating an all-in-one software solution, such as telemedica, is ideal for hospitals and clinics as well as patients. Medical staff have access to consultation and conversation history, prescribed treatments, recommendations as well as the patient's electronic medical record. The platform can be accessed directly from any device, appointments can be managed flexibly both online and offline and patients can easily access recommendations and medical documents issued by the specialist.
About the author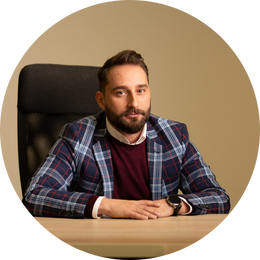 Virgil Popescu is Product Manager of telemedica, the virtual clinic platform that provides online consultations and fast access to quality medical services. With a solid background in leading software product development teams, including sales and marketing, Virgil has more than 8 years of experience in the IT industry and more than 3 years of experience in the healthcare industry.
Source: infofinanaciar.ro